Monetize your blog
If you are looking to monetize your blog, affiliate marketing is an excellent way to do so. Blogs with quality content will attract loyal readers because readers will benefit from the content offered. They will grow to trust the authors of that content over time.  Once you develop trust you can transition into promoting relevant products and services on your blog. This can be done without compromising the integrity of the content.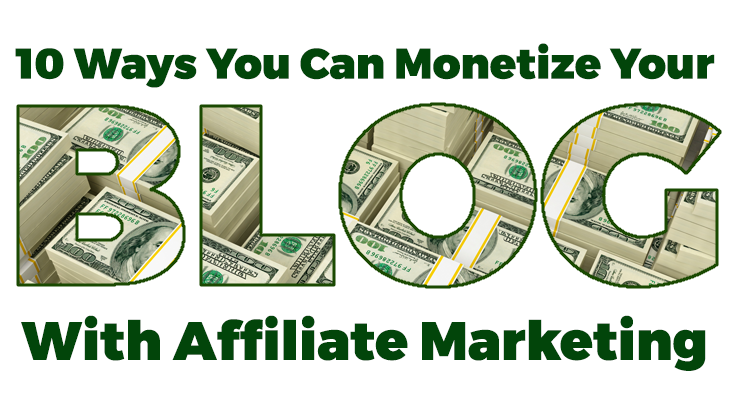 Fundamental tips to help monetize your blog.
Write about what you know and love. Writhing about things that you are passionate about will build credibility with your audience as well as it will be excellent fodder for great content.
Blog often – Write blog posts every day if you can. It's important that you update the content on your blog as frequent as you can – once per day if you are able.  The key is making sure your site get some fresh content every week. It's helpful to set up a set writing schedule and editorial calendar. Doing this will help you to effectively manage and monetize your blogs through affiliate marketing.
Make sure your affiliate links are relevant to your site and your readers. Feature products on your blog that you have used. Show how use use them. Include images, videos and links where necessary.
Promote and share your blog posts. Spend a significant amount of time marketing your blogs. Sharing your blog posts on other sites, such as Facebook, Twitter or LinkedIn, not only promotes your content but shows your expertise.
use analytics to determine which posts, creatives and products are doing well on your blog. Use Google analytics, Facebook insights, Pintrest statistics, etc. Be sure to capitalize on what is working well.
Another way to monetize your blog posts with affiliate marketing is to set up a page to specifically promote a single product – as opposed to all the products an affiliate offers. For example, you can speak about your weight loss journey and seamlessly link to a page featuring the products you used, like Ultra Bali Slim, Ultra primal Lean, Ultra Accel, Pace Express Cleanse, and PACE Express.
Read the affiliate newsletter sent out by the publishers. These contain a treasure trove of tips, tools and ideas that will help you to increase sales. Newsletters are typically where you will learn about new creatives, contests and promotions.
Get to know your affiliate program manager. They have a wealth of information that will assure your success.
Invest in paid advertising. Try running a sponsored ad on social networks such Facebook, Instagram, Pinterest or Twitter. These ads are relatively inexpensive and are a good source of traffic. Advanced users can try search engines such as Google and Bing.
Email marketing can generate a substantial income. The key is to build a large email list of your customers/visitors.

With an email list, you can build a brand, recommend products, promote any sale that you may be holding and more importantly to can encourage people to keep returning to your website.

Although Email marketing isn't a direct way of making money, but it is a powerful way of increasing your income from your other methods by driving traffic back to your site.