What is Affiliate Marketing?
Affiliate marketing is an Internet-based promotional system where the affiliate (you) get paid for referring sales or customers to another business. www.affilorama.com describes it best – "It's a bit like how a real estate agent doesn't own the houses they sell; instead they promote houses on behalf of their clients, and earn a cut of the sale price of any properties sold."
If you use your marketing efforts to refer sales to PrimalForce.net, MyPureRadiance.com or AlSearsmd.com, we pay you a 25% commission on initial orders, and 10% commissions on recurring orders…sweet!
The affiliate industry has four core players: the merchant (also known as 'retailer' or 'brand' e.g AlSearsmd.com), the network (that contains offers for the affiliate to choose from and also takes care of the payments), the publisher (also known as 'the affiliate'), and the customer. Merchants contractually agree to work with affiliates, then provide their affiliates with creative – in the form of links, banner or text ads or even unique phone numbers – that the affiliates incorporates into their website.
How Does Affiliate Marketing Work?
Once you sign up to be included in a company's affiliate program, your application is reviewed and if you are approved, you are given a URL (link) that is specific to you – the affiliate. Affiliate links have tracking information embedded in them to make sure that the affiliate get credited with every sale they make. Once the affiliates are armed with this unique link, it's now their responsibility to get it in front of an audience. If someone clicks on that link and purchase a product or service, the affiliate earns a commission. Basically, if a link on an affiliate site brings the merchant site money, the merchant site pays the affiliate according to their agreement.
The image below shows how an affiliate can incorporate an image in their website. If you click on this image, it will take you to the merchants site where you can learn more about the supplement Omega Rejuvenol.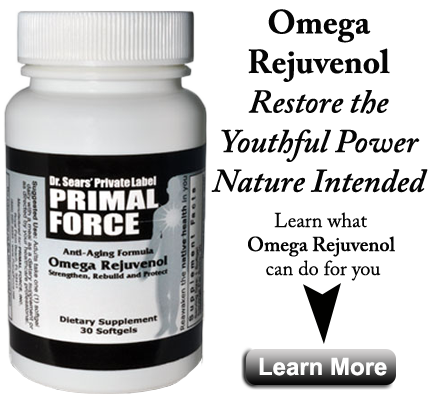 When someone, who's interested in the supplement clicks that image, they are taken to the merchant's website below.

The merchant  – in this case Dr. Sears Primal Force – is the company that creates the supplement Omega Rejuvenol. Now it's up to the merchant to create a strong reason to get that visitor to the site to purchase. If the visitor does decide to purchase, then the affiliate that sent them to the site earns a commission, which is a percentage of the product's sale price.
There are several ways to place these commission-earning links on your website. I wrote about them here.  Here are some additional tips:
Write content on a topic, and then link to a product that might be useful for the reader. As long as the link you use is an affiliate link, you may earn a commission
Make links visible – Make sure they stand out from the text on your blog or website.
Place your affiliate link several times (2-3 times) throughout the post.
Include a description of the product that you are linking to. This will educate the readers on the value of the product.
Create a page on your blog with some of the top items you recommend.
Do review posts. Tell readers about your experience with a product.
Why Join an affiliate program?
Start up costs are very low. As an affiliate, you can get started for the cost of a website hosting plan – approximately $6.00.
You do not need to store inventory or deal with shipping or handling – that's the responsibility of the merchant.
You don't have to process credit cards or handle customer service issues — that's the merchants responsibility.
Earn passive income. As an affiliate you can keep making money from the same work day in, day out.
You can work your own hours. Work when it suits you, have a more flexible life, be your own boss!
How much money can you actually make?
The more effort you put in, the better you will do! Like any business it all depends on how seriously you take it.
Let's do some quick math on how much you can actually make as an affiliate – particularly an Al Sears Affiliate. Imagine you're promoting Telo-Essence II anti-aging supplement, the price is listed at $349.00 per jar. Dr. Sears pays a 25% commission each time a sale results from your referral.  You would make $87.25 on that sale. If you sold 1 per day, then you would be making an extra $610.75 per week. That's an additional $2443 per month in your bank account, or almost $30,000 per year! Cha ching! 🙂 – Is my math correct? let me know in the comments below.
The goal of affiliate marketing is to get as many people as possible clicking on your links and visiting merchant pages. The more people that click on your affiliate links, the more chances you have of a sale occurring and earning a commission.
let's summarize the process – a checklist